Weather News – Traralgon Creek rises cutting roads, inundating vehicles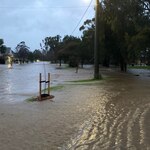 Traralgon Creek rises cutting roads, inundating vehicles


Wednesday June 9, 2021 – 23:57 EST


Traralgon Creek rising and inundating George Street, Traralgon.
– ABC


The State Emergency Service is rescuing people from their cars in Traralgon where flash flooding and major flooding on the Traralgon Creek is inundating low lying areas of town.
The Traralgon plaza underground car park is inundated with water, with some vehicles trapped.
Storm damage is widespread through Gippsland, with 303 calls to the SES and more than 10,000 homes without power.
Kelly Van den Berg from Budgeree, south of Morwell is trapped in her…