Weather News – Holiday town Exmouth flooded as some residents experience heaviest rain of their lives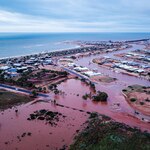 Holiday town Exmouth flooded as some residents experience heaviest rain of their lives


Thursday June 10, 2021 – 06:57 EST


Some Exmouth residents reported more than 200 millimetres of rain overnight. 
– ABC


Exmouth residents say rain that caused flooding in the town overnight was the heaviest they've ever seen.
The weather bureau recorded 173.4 millimetres in Exmouth town, but there are reports locally of more than 200mm falling in the early hours of this morning.
Marine Rescue Exmouth's vice commander Rusty Ellis was woken up by the rain.
"I've never seen that much rain before in one hit," he said.
"We've had…