Armed robbery, Runaway Bay – Queensland Police News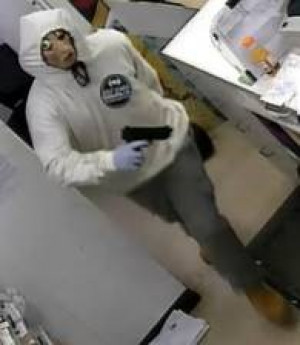 Police have released CCTV as part of ongoing investigations into the armed robbery of a pharmacy at Runaway Bay on Sunday May 2.
Around 8pm a man entered the business on Lae Drive, approached the counter and produced a handgun.
He then made threats towards two pharmacists, forcing them into a storeroom where he took a quantity of medication.
The man also took a sum of cash from a safe before fleeing on foot through nearby football grounds.
At the time of the incident the man was wearing a mask similar to the character "Dobby" from the Harry Potter films.
He was also wearing distinctive clothing, including a grey/cream coloured hooded jumper with the outline of a Star Wars storm trooper mask on the back, long khaki cargo pants and…